Le'Bryan Nash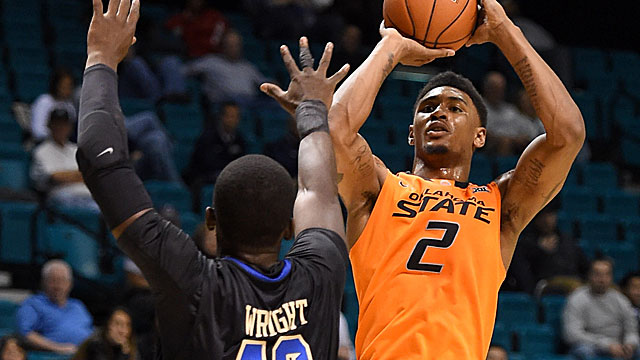 | | | | | | | | |
| --- | --- | --- | --- | --- | --- | --- | --- |
| Passport: | USA | Date of Birth: | 1992 | Height: | 2.01 | Position: | PF/SF |
| | | | | | | | | | | | |
| --- | --- | --- | --- | --- | --- | --- | --- | --- | --- | --- | --- |
| Season | Club | Games | Mins | Pts | Reb | Ast | Stl | Blk | FT% | 2p% | 3p% |
| 2019/20 | Tokyo (JPN) | 2 | 34 | 26.5 | 11.0 | 6.0 | | | 73% | 62% | 66% |
| 2018/19 | Tokyo (JPN) | 11 | 30 | 19.7 | 8.2 | 3.6 | 1.4 | 1.5 | 68% | 51% | 33% |
| 2017/18 | Sonic (KOR) | 27 | 24 | 18.6 | 5.7 | 2.1 | 0.9 | 0.4 | 71% | 56% | 31% |
| 2016/17 | Vipers (NBDL) | 27 | 19 | 8.7 | 3.1 | 1.2 | 0.6 | 0.3 | 72% | 40% | 32% |
| 2015/16 | Fukushima (JPN) | 54 | 29 | 26.6 | 8.1 | 3.1 | 1.3 | 0.4 | 70% | 51% | 30% |
PROFILE:
Top scorer in Japan this season with 26.6pts average in his rookie season
Graduate of Oklahoma State, where he averaged 17.2pts amd 5.7 rebounds
Scouting: Le'Bryan's size and ability to defend are his biggest selling points when looking towards the NBA. Standing 6'6.5'' barefoot, possessing a 6'10'' wingspan, 8'6'' standing reach, and weighing in at a powerful 232 pounds, Nash has really solid measurements for an NBA small forward ... He's proved to be a solid, and physical defender at the NCAA level, and his physical traits and athleticism project him to be a player capable of guarding the small forward spot at the next level ... Not a player that really stuffs the stats on the defensive end, his role with the Cowboys was to defend their opponents most prolific wing, something Le'Bryan did with great success ... Offensively, Nash has a great first step, and has really developed into a polished slasher at the college level ... He not only has the speed to get past defenders, but the hops and strength to dunk over, and finish through contact ... Nash made 7.1 trips to the line per contest last season, and he hit 79% of those shots, very good marks ... His offensive game is limited within the 3 point arc, but he's a 40.6% jump shooter on 2 point field goals, and his a good shooter off the dribble out to about 18 feet ... He knows his game, and as a first time 1st option as a senior in NCAA, scored at a high level (17.2 ppg) and hit double figures in every game this season ... He uses his strength on the glass as well, and is an above average rebounder for his position (5.7 rpg, and 7.2 per 40 minutes).
Oklahoma St-West Virginia, NCAA
#2 orange jersey
Oklahoma State-Missouri, NCAA
#2 orange jersey