Marvin Jones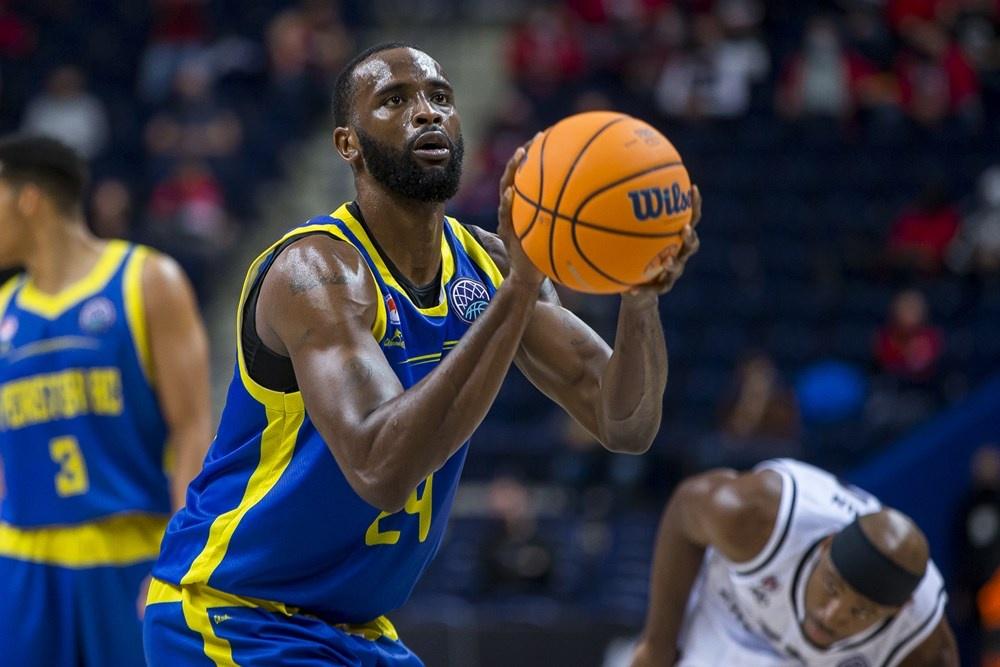 | | | | | | | | |
| --- | --- | --- | --- | --- | --- | --- | --- |
| Passport: | USA | Date of Birth: | 1993 | Height: | 2.13 | Position: | C |
| | | | | | | | | | | | |
| --- | --- | --- | --- | --- | --- | --- | --- | --- | --- | --- | --- |
| Season | Club | Games | Mins | Pts | Reb | Ast | Stl | Blk | FT% | 2p% | 3p% |
| 2020/21 | Peristeri (GRE) | 26 | 25 | 9.0 | 6.9 | 1.1 | 0.4 | 1.0 | 82% | 64% | |
| 2020/21 | Peristeri (BCL) | 6 | 29 | 9.5 | 6.8 | 0.8 | 0.8 | 0.5 | 81% | 50% | |
| 2019/20 | Krka (ADR) | 11 | 20 | 7.1 | 4.5 | 0.6 | 0.9 | 0.7 | 56% | 62% | |
| 2019/20 | Promitheas (EUC) | 3 | 7 | 3.3 | 1.7 | | | 1.0 | | | |
| 2018/19 | Olimpija (BCL) | 12 | 21 | 7.8 | 4.3 | 0.3 | 0.2 | 0.7 | 55% | 61% | |
| 2018/19 | Olimpija (ADR) | 22 | 20 | 6.5 | 4.6 | 0.4 | 0.5 | 0.7 | 59% | 57% | |
| 2017/18 | Kolossos (GRE) | 14 | 21 | 10.8 | 6.3 | 0.5 | 0.4 | 1.4 | 76% | 62% | 33% |
| 2016/17 | Texas Southern (NCAA) | 35 | 24 | 8.5 | 6.8 | 2.4 | 0.5 | 1.6 | 78% | 65% | 21% |
PROFILE:
Offense:
- Elite height (7'0) & length for a center, super light on his feet gets up & down on transition
- Excellent rim runner. Very quick roller. Lob target for Guards
- Potential on the Glass, goes high and quick to the ball. (90% on put backs)
- Good footwork on the post
Deffense:
- Very rangy, covers ground to protect the rim
- High Center of gravity but can switch on PnR or Hedge out
- Solid rebounder
Generally he is a modern C who can be a perfect pair with an explosive guard, cause of his speedness and his above the rim game ( 66% after PnR and 76% on cuts). Good hands, dives quicly to the rim but also he can make a SHORT-ROLL and execute from Fth line extension and some times from 3pts one as well (42,9%). Defensively he can cover great ground by using his length , same time he can play aggressive switching defense . He has the will and the skills to go for offensive rebounds.
All-NJCAA D1 Region IV 1st Team -14
SWAC Regular Season Champion -17
SWAC Tournament Winner -17
All-SWAC All-Tournament MVP -17
All-SWAC Defensive Player of the Year -17
SWAC All-Tournament Team -17
Rytas-Peristeri, BCL 20/21
#24 blue jersey
Promitheas-Olimpija, BCL 18/19
#3 black jersey (comes in at 26:10 of the video)
Bayreuth-Olimpija, BCL 18/19