Thodoris Karras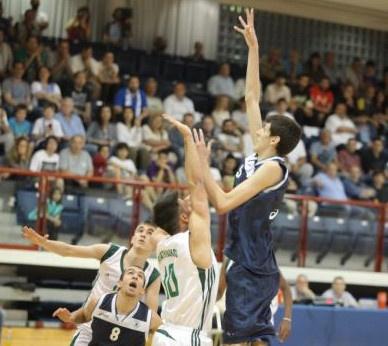 | | | | | | | | |
| --- | --- | --- | --- | --- | --- | --- | --- |
| Passport: | GRE | Date of Birth: | 1997 | Height: | 2.09 | Position: | C/PF |
| | | | | | | | | | | | |
| --- | --- | --- | --- | --- | --- | --- | --- | --- | --- | --- | --- |
| Season | Club | Games | Mins | Pts | Reb | Ast | Stl | Blk | FT% | 2p% | 3p% |
| 2021/22 | Karditsa (GRE2) | 20 | 14 | 6.2 | 4.9 | 0.8 | 1.0 | | 66% | 55% | |
| 2020/21 | Karditsa (GRE2) | 7 | 16 | 8.3 | 3.1 | 0.3 | 1.1 | 0.1 | 63% | 61% | |
| 2019/20 | PAOK (GRE) | 6 | 2 | 0.3 | | | | | | | |
| 2018/19 | Karditsa (GRE2) | 26 | 9 | 4.3 | 2.5 | 0.3 | 0.2 | 0.3 | 60% | 53% | |
| 2017/18 | PAOK (GRE) | 10 | 3 | 2.3 | 1.0 | | 0.1 | 0.1 | 75% | 83% | |
| 2016/17 | Doukas (GRE2) | 5 | 10 | 5.2 | 2.8 | 0.2 | 0.6 | 0.6 | 90% | 70% | |
| 2017 | U20 NT | 7 | 17 | 9.7 | 3.6 | | 0.3 | 0.6 | 71% | 57% | |
PROFILE:
Offense:
Very mobile for his height, he can make consecutive Picks on and off ball in a just single play, just to create the right space for creation.
Great catch, he knows how to move without ball and that makes him an efficient assist receiver. He has very quick release with soft touch, he uses very often right hand and PRI-HOOK. After PnR he dives fast and many times he locks hard in the paint waiting the ball from the triangle something which helps team's spacing. Runs fast in transition, either in his middle lane or on the side to set a PnR.
Defensive Characteristics
Uses all of his length ( wingspan 7'2'') and his fast legs to avoid penetration, deflect passes and shots, has good timing on block.
Can defend on PnR anyhow …hedge out, stay in, even switches.
European U20 Statistics & facts
He was a real rookie in European competitions, no matter what he started playing really great from the preparation, for example he had 23pts vs Spain and 16p vs Italy and he become out of nowhere a starter to a team who finally won the gold medal.
In the official tournament he had an amazing game at semi-finals against Spain by scoring 16pts 8/10.
Highlights
Height: 2.08/6'10'' - Wingspan: 2.30cm/7'3''